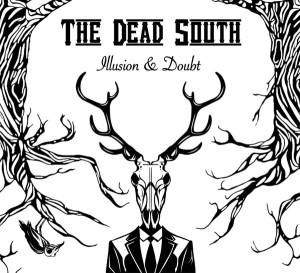 The Dead South
Album: "Illusion & Doubt" – VÖ 26.08.2016
Label: DevilDuck Records
Vertrieb: Indigo
OK, zur Zeit mag es Folk- oder auch Nu-Folk-Bands wie Sand am berühmten Meer geben, aber trotzdem hat es sich Jörg von DevilDuck Records nicht nehmen lassen die wunderbare eigenen THE DEAD SOUTH ins Boot zu holen und eigentlich machen sie ja auch Bluegrass-Folk und bedienen damit schon noch eine andere "Schublade", oder?
Schon dem Foto ist anzusehen, dass sie eine unglaublich sympathische und enthusiastische Live-Band sind, aber sie schreiben dazu sogar noch formidable Songs, die sich nun auf ihrem Debüt "Good Company" finden. Nicht unerwähnt sollte bleiben, dass sie im letzten Jahr in Eigenregie bereits die EP "The Ocean Went Mad And We Were To Blame" veröffentlicht haben, von denen sich zumindest 'Honey You' auch auf dem Album wieder findet.
Bewaffnet mit Gitarren, einem Cello, das als Bass gespielt wird, Banjo, Kick Drum, Mandoline sowie mehrstimmigem Gesang kommen die zum Teil sehr bärtigen Hutträger daher – Sänger Nate hat sich gerade für 800 $ einen Hut in Portland, Oregon anfertigen lassen, unglaublich – und ihre Leidenschaft konnten einige gerade noch bei ihren ersten Deutschland-Shows, inkl. Reeperbahn Festival, erleben. Diese Band liebt man oder hasst man, ein Dazwischen gibt es nicht.
Deutschland-Tour
18.10.16 Hamburg // Knust
20.10.16 Flensburg // Volksbad
24.10.16 Köln // Yard Club
25.10.16 Münster // Gleis 22
26.10.16 Berlin // Bi Nuu
27.10.16 Wuppertal // Utopiastadt
28.10.16 Hannover // Bei Chez Heinz
29.10.16 Leipzig // UT Connewitz
31.10.16 Crailsheim // 7180 Cafe-bar
02.11.16 Nürnberg // MUZ Club
03.11.16 München // Villa
04.11.16 Karlsruhe // Scruffy's
https://www.facebook.com/thedeadsouth79/
 Kontakt: info@revolverpromotion.de, +49 30 627 351 71